News
Cominar recovers 32,329 electronics
As a leader in the real estate industry, Cominar has pioneered eco-friendly management in all its properties. For several years, the Canadian company has developed innovative ways to offer sustainable and progressive solutions to its customers.
Cominar was one of Electrobac's first partners. In 2013, all of Cominar's properties already offered an Electrobac. Although it was still a very young company at the time, Cominar immediately believed in the environmental and social mission.
"For many years, we have been eager to reduce our environmental footprint, and we have not hesitated to innovate," said Johanne Leclerc, Vice President of Operations at Cominar. "Every bit counts and it's important for our customers, consumers and us."
From the 13 properties participating in the Electrobac e-waste management program, 32,329 electronic devices were collected and diverted from landfills. This quantity is equivalent to 40,727 litres of oil saved or 91,860 recycled plastic bottles.
Mail Champlain, a Cominar property, distinguished itself by winning the title of "Best Marketing Effort" for the Electrobac program in 2018. This annual contest combines Electrobac's partners from all industries.
As of 2019, 15 Electrobacs are in Cominar properties as a solution for the recovery of electronic waste. They can be found at Galeries de Hull, Montenach Mail, Carrefour Saint-Georges, Jules-Dallaire Complex, Promenades Beauport, Place de la Cité, 2001 McGill College, Galeries Rive-Nord, Place Longueuil, Centre Laval, Alexis-Nihon Complex, Mail Champlain (2 Electrobacs) and Rivers (2 Electrobacs).
In addition to increasing waste management within its properties, Cominar places a special emphasis on energy efficiency, water consumption, environmental compliance, involvement with local communities, volunteerism, donations and sponsorships, as well as health and safety with a focus on sustainable development.
More details can be found in the company' annual report: https://content.cominar.com/uploads/files/quaterlies/Cominar_RapportAnnuel_2018.pdf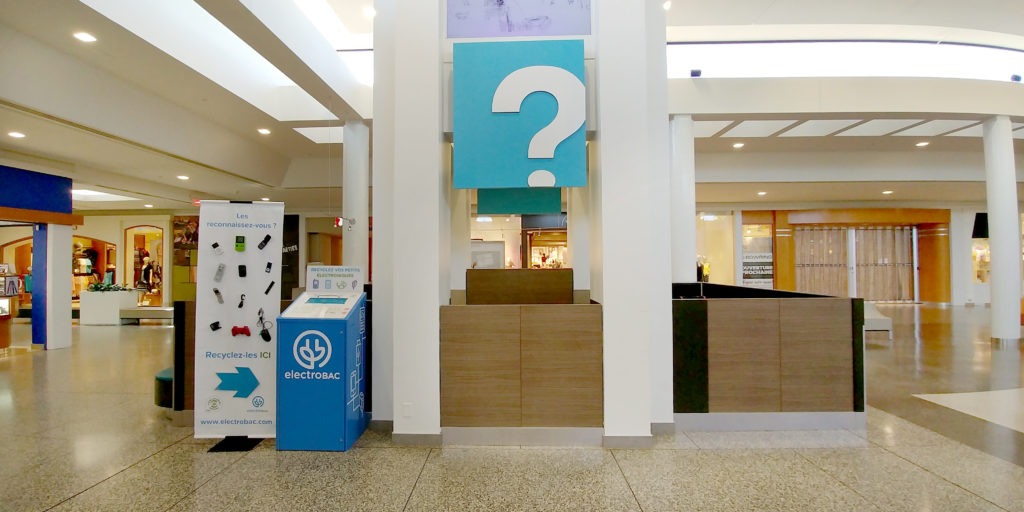 The Electrobac installed at Place Longueuil